Stronger trade for Malaysia in months ahead: Economists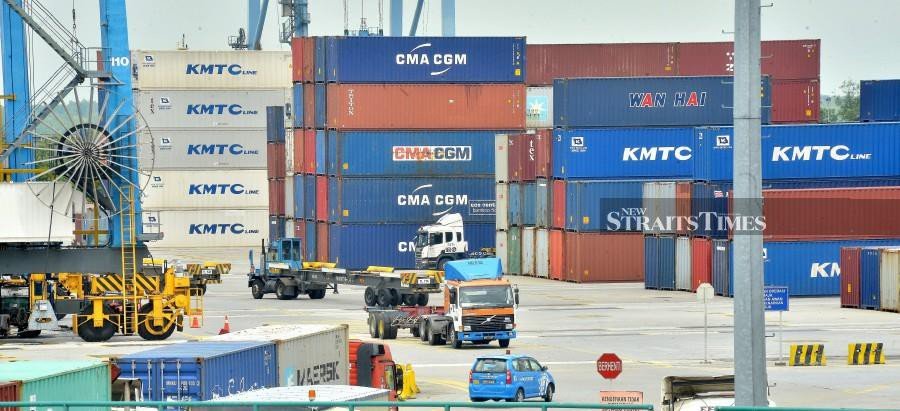 By FARAH ADILLA and AYISY YUSOF - June 30, 2020 @ 10:05am
KUALA LUMPUR: Malaysia's trade surplus is above RM10 billion for the fourth time this year, after registering a double-digit growth of 14.7 per cent year-on-year (y-o-y) to RM10.41 billion in May.
The country's total trade during the month was, however, down 27.8 per cent y-o-y to RM114.96 billion.
But economists believe the trade performance should improve in the remaining months of the year as global economy started to gradually reopen in May.
International Trade and Industry Minister Datuk Seri Mohamed Azmin Ali said the RM10.41 billion was the highest trade surplus for the month of May since May 2008.
Nevertheless, Azmin said the overall performance was similar in other regional countries, which recorded lower trade growth due to the Covid-19 pandemic that continued to slow economic activities globally.
Exports totalled RM62.69 billion to contract by 25.5 per cent, while imports decreased 30.4 per cent to RM52.27 billion.
Compared to April, the total trade, exports and imports slipped 13.7 per cent, 3.2 per cent and 23.6 per cent respectively.
Malaysia's trade during the first five months of 2020 declined 8.7 per cent to RM688.57 billion compared to the corresponding period of 2019.
Exports fell 9.7 per cent to RM366.16 billion and imports eased 7.5 per cent to RM322.41 billion.
The trade surplus for the five months stood at RM43.75 billion, a drop of 23 per cent from the same period of 2019.
Azmin said exports of rubber products especially rubber gloves registered a double-digit growth for two consecutive months, increasing 20.5 per cent or RM461 million in May 2020.
This was underpinned by growing demand of rubber gloves which benefitted from the pandemic, despite the decline in exports of manufactured goods by 23.5 per cent y-o-y to RM54.21 billion.
Bank Islam chief economist Dr. Mohd Afzanizam Abdul Rashid is bullish about better trade numbers in the coming months.
"We could see flash Composite Purchasing Managers Index for the United States, Eurozone, United Kingdom and Japan in June has been going up to 46.8 points. Thus sequentially, we could be seeing positive growth," he told the New Straits Times.
Afzanizam said Malaysia's month-on-month (m-o-m) contraction for exports had slowed from -19.1 per cent in April to -3.2 per cent in May.
However, he said m-o-m import saw a significant decline of 23.6 per cent in May from 0.9 in April, suggesting the reopening of the economy was still at a very early stage after the Conditional Movement Control Order (CMCO) was implemented on May 4.
"We believe the June figures should be better than May although the y-o-y comparison should remain negative," he added.
Sunway University Business School economics Professor Dr Yeah Kim Leng concurred that the y-o-y export contraction was likely to decline at a slower rate from June.
This was on expectation that production and supply chain activities would pick up pace in Malaysia and globally, especially among key trading partners that had been able to suppress the Covid-19 virus outbreak.
"The recovery in trade, therefore, is expected to be gradual and tentative as some countries especially the United States are struggling to contain the resurgence in coronavirus infection rates leading to localised lockdowns and subdued consumer spending," he said.
Yeah recalled that during the global financial crisis in 2008-2009, Malaysia's monthly exports were in negative territory for a year.
The current global recession could result in a more prolonged slump for Malaysia with the recovery pace being dependent on how successful its trade partners allow full resumption of economic activities without igniting new infection waves, he added.