My loyalty has its limits, says Azmin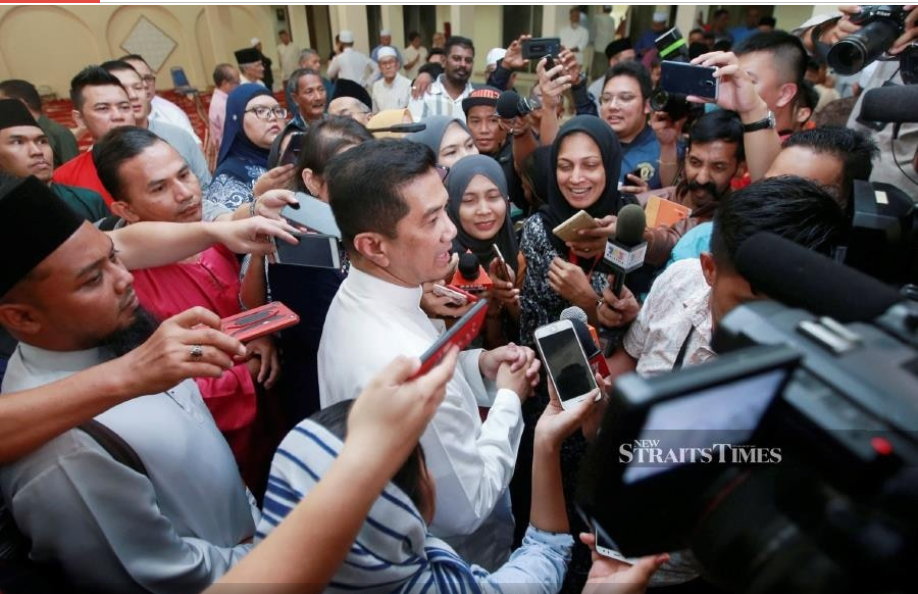 SHAH ALAM: Datuk Seri Azmin Ali said he may be walking against the wind alone amid the controversies facing him, but warned that his loyalty has its limits as he faces the person "that he once knew."
The PKR deputy president acknowledged that accusations have been hurled at him over the past five weeks, saying that "certain quarters, whose hands are worth hundreds, thousands and millions of ringgit", are willing to do all they can to see his downfall.
"I stand here today and whatever attacks are thrown my way, I will rise to bring new politics to this nation. Let me face the person or people alone, those who I once knew. My loyalty, however has, its limits.
"I will stay loyal to truth and justice. I am ready to accept all these tests. These challenges and tests are not new to me. Since 1998 until today, it has never died down.
"The hope of the rakyat and I was that these cultures died in May 2018. Unfortunately, there is greed and lust among some people who are willing to kill a political career.
"I will not budge although I was trod on, shamed and insulted for so long. My family and I, even my grandchild, had to face these slanders calmly and with a lot of patience. But InsyaAllah (God willing) with the prayers and support of Malaysians, I will stand tall," said Azmin.
He said this before a crowd of more than 300 party supporters who had gathered for a special thanksgiving prayer at the Selangor Menteri Besar's official residence in Section 7,here.
Also present were Selangor Menteri Besar Amirudin Shari, who is also PKR central leadership council member, PKR vice-president Tian Chua as well as Pakatan Harapan secretariat chief Datuk Saifuddin Abdullah.
Azmin, who is also Economics Affairs Minister, said he had given his fullest cooperation to the police in the course of investigations in the sex video scandal.
He said the authorities had investigated the case thoroughly and he, too, was subjected to an interview with the forensic team as well as doctors from the Kuala Lumpur Hospital for five hours.
"I gave my full cooperation because I am confident I am not wrong. I am confident, from the very start, that it was the work of internal politics.
"I am not surprised. I know who is the perpetrator. Today, it has been proven when the police announced that I am not wrong.
"Even the Inspector-General of Police (Datuk Seri Abdul Hamid Bador) himself confirmed that there are hidden hands that are worth hundreds, thousands and millions of ringgit to see my downfall. I will not be quiet because we do not need a person like this to lead us.
"We need to trust Allah. To those who are involved, remember this. You can plan a person's downfall, or insult or shame someone, when you have hundreds, thousands and millions of ringgit or you have might 'towkays', but God's plan overrides man's," said Azmin.
Azmin also thanked party supporters who had attended the special prayers, saying that they were there because they know who he was and that he would not betray anyone.