Embracing online teaching during the pandemic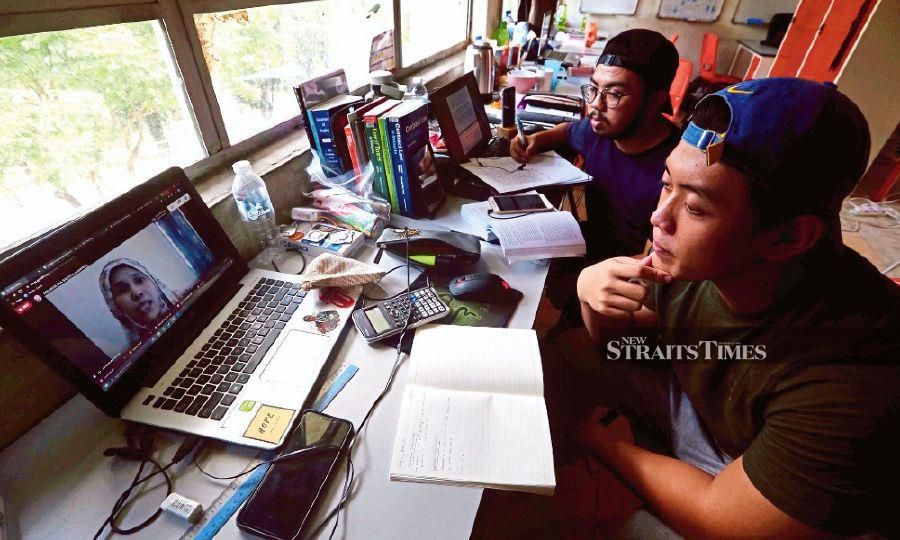 November 25, 2020 @ 9:00am
KUALA LUMPUR: The Covid-19 pandemic has had a significant impact on the education landscape of the country, accelerating the digitisation of higher education.
Remote learning has become the new norm, with new, more flexible teaching and learning processes, and this must continue even after the pandemic, to ensure that meaningful learning is achieved in the best possible way.
In May, a proposal from the Higher Education Ministry (MOHE) to carry out academic activities in a remote format until the end of the year was approved by the Special Meeting of Ministers on the implementation of the Movement Control Order (MCO) of the National Security Council (MKN).
Following the stabilisation of the initial Covid-19 outbreak, Higher Education Minister Datuk Seri Dr Noraini Ahmad announced on July 8 that higher education institutions would be reopened entirely in October.
The reopening of these institutions would have meant returning to the face-to-face teaching and learning (T&L) style.
However, in September, MOHE called for all Malaysian Higher Learning Institutions (HLIs) to postpone students' on-campus registration considering the rapid increase in the number of Covid-19 cases.
The directive urged all Malaysian universities to introduce online registrations for new and returning students for Semester 1 2020/2021 session and to carry out the complete online T&L process until the situation improves.
Due to the risk of Covid-19, it is crucial to replace face-to-face classes and laboratory studies with online classes. Malaysian universities need to continue identifying the best methods to resume T&L while protecting their teachers, employees, and students from the Covid-19 virus.
These HLIs also need to resort to all measures in ensuring that the students' learning process are not disrupted due to Internet problems, particularly students in the B40 group and those who remain in remote areas.
More flexible T&L techniques have resulted from the pandemic. The use of synchronous and asynchronous teaching modes and online assignment submissions have become a norm in university teaching today.
Synchronous learning via 'live sessions' is recorded and made available to students who could not join the session in real-time. This is followed by shorter engagement sessions like chat rooms and online meetings.
On the contrary, the asynchronous mode allows the students to view the recorded sessions, lecture notes, or online discussion boards in their own time. Additionally, educators also use social media platforms such as WhatsApp, Telegram, and WeChat to engage students with Internet connection difficulties.
The pandemic has had a significant impact on the country's educational landscape. Shift 9 of the Malaysia Education Blueprint of Higher Education 2015-2025 outlines the globalised online learning (GOL) movement.
Conventional approaches are no longer a likely alternative, and remote learning has become a new norm. More online learning modules, namely Micro-Credentials, Massive Online Open Courses (MOOCs), MOOC Credit Transfer, Open Online Resources (OER), and OpenCourseWare, are being developed via online platforms.
Digitisation of higher education must continue after the pandemic. The provision of an institution's digital infrastructure needs to be strengthened to increase access to education, enhance teaching and learning quality, and respond to students' needs. HLIs also need to improve their digital content, create alternative assessments suitable for online learning, and revive their digital learning strategies.
The global online learning environment involves a holistic and sustainable system that needs a paradigm shift from educators and students, namely their use of digital technology and the development of e-content.
They must adapt to this new norm and familiarise themselves with the online methodology to move beyond their comfort zone.
To ease the shift, MoHE, in collaboration with universities, various organisations and Malaysia's telecommunication giants — Celcom, Digi, Telekom Malaysia and Maxis, have recently launched 'Data Plan and Device Packages for Higher Education Students.' This is one of the many initiatives by MOHE to facilitate the online teaching and learning process.
Online teaching may not be everyone's cup of tea, but embracing change at a time such as this has certainly brought a positive impact in the HLIs' landscape. This latest trend is likely to inspire educators to explore more online platforms for them to engage in more online classes and activities.
There is no right or wrong answer to which remote teaching activity, online platform, or conferencing tool is best. Still, educators need to be flexible in improvising their teaching and ensuring that meaningful learning is achieved in the best possible way.
The pandemic has triggered a lot of creative teaching and learning, and we need to leverage that even after the pandemic has ended.
Dr Marlia Puteh is an Associate Professor at Universiti Teknologi Malaysia and Dr Aini Andria Shirin Anuarudin is a senior lecturer at Universiti Teknologi Mara (UiTM). Both are guest writers for MoHE