Malaysia will not escape global slowdown in 2023, says Zafrul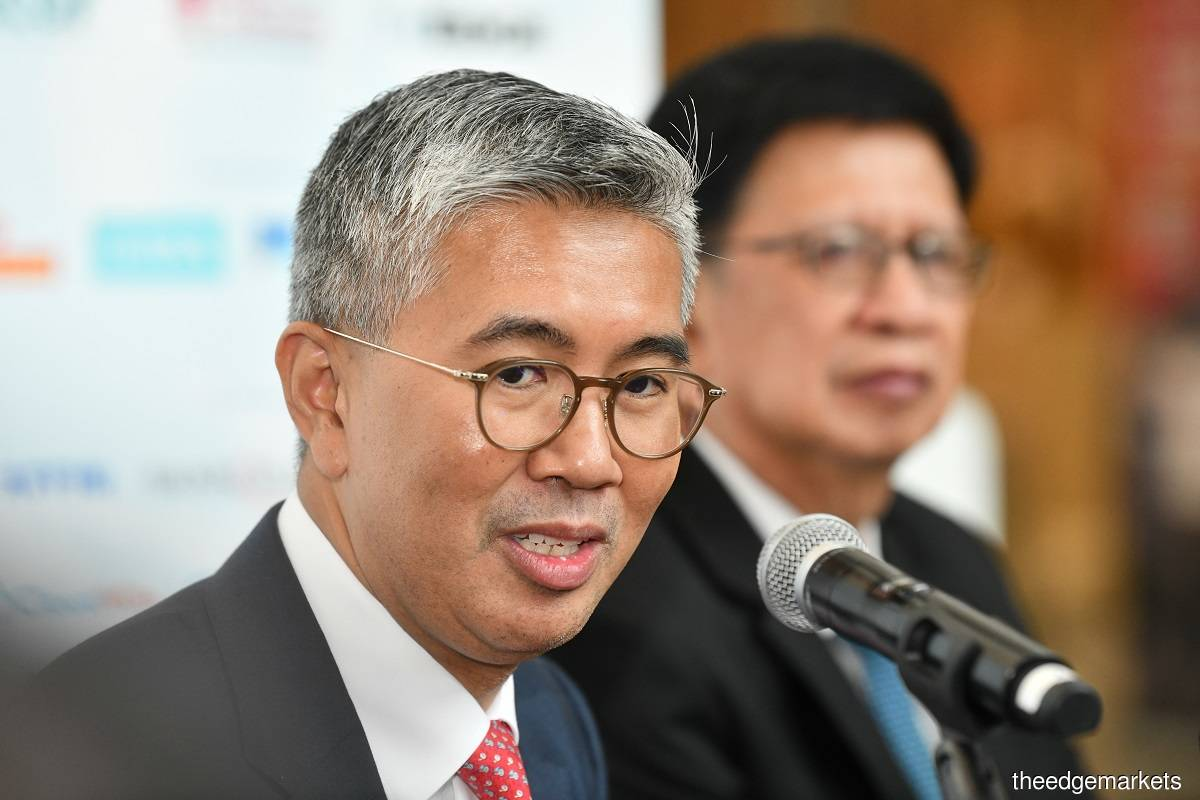 Malaysia will not be spared from the expected global economic slowdown in 2023, as all three of the world's major economic drivers — Europe, China and the US — are expected to grow at a slower rate next year compared with this year.
马来西亚将无法幸免于 2023 年预期的全球经济放缓,因为与欧洲、中国和美国这三个世界主要经济驱动因素相比,预计明年的增长速度将放缓。
As such, the country must be prepared to do what needs to be done to mitigate the anticipated impact from the economic slowdowns in the world over, said Finance Minister Tengku Datuk Seri Zafrul Abdul Aziz.
因此,财政部长Tengku Datuk Seri Zafrul Abdul Aziz表示,国家必须准备好采取必要措施,以减轻全球经济放缓带来的预期影响。
Speaking at a press conference after officiating the "Developing & Financing Green Housing in Asia" conference organised by Cagamas on 21st September, Tengku Zafrul warned that a slowdown is inevitable for a country with an open economy such as Malaysia, as its major trade partners decelerate.
Tengku Zafrul 在9 月 21 日主持由 Cagamas 组织的"亚洲绿色住房开发与融资"会议后的新闻发布会上警告说,对于马来西亚这样一个开放经济的国家来说,经济放缓是不可避免的。贸易伙伴减速。
"To say that we will not be affected by the... global slowdown is not real, memang (surely) we (Malaysia) will be affected by the global slowdown. All of the world's countries will be (affected) because this time now, all the major economies are expected to slow down — Europe, US and China.
"要说我们不会受到……全球经济放缓的影响是不真实的,memang(当然)我们(马来西亚)将受到全球经济放缓的影响。世界上所有国家都将受到(影响),因为这一次,所有主要经济体都将放缓——欧洲、美国和中国。
"If you remember during the global financial crisis in 2007 to 2008, China grew 7% to 8%, so that helped mitigate the slowdown in the world economy, but this time all three economies are expected to slow down in 2023 compared to 2022, but this is again a forecast, it is only September," he said.
"如果你还记得 2007 年至 2008 年全球金融危机期间,中国经济增长 7% 至 8%,这有助于缓解世界经济放缓,但与 2022 年相比,这一次预计 2023 年所有三个经济体都将放缓,但这又是一个预测,现在只是 9 月,"他说。
In view of this, the finance minister said Budget 2023 will continue to prioritise the nation's structural reform agenda and maintain economic recovery momentum, to ensure the well-being of the rakyat, to strengthen the resilience of the people and businesses against any future headwinds, particularly challenges stemming from the ongoing geopolitical uncertainty and climate change.
有鉴于此,财政部长表示,2023年预算案将继续优先考虑国家的结构性改革议程并保持经济复苏势头,以确保人民的福祉,加强人民和企业抵御未来任何逆风的能力,特别是来自持续的地缘政治不确定性和气候变化的挑战。
A cloud of uncertainty over 4Q2022 2022 年第四季度充满不确定性
The dampened global economic outlook has also cast a cloud on the fourth quarter of 2022 (4Q2022), according to Tengku Zafrul, citing the geopolitical tensions between the US and China, the ongoing conflict in Ukraine, as well as China's zero Covid-19 policy have affected the global supply chain.
Tengku Zafrul 表示,受抑制的全球经济前景也给 2022 年第四季度(2022 年第四季度)蒙上了一层阴影,理由是中美之间的地缘政治紧张局势、乌克兰持续的冲突以及中国的 Covid-19 零政策已经影响到全球供应链。
"In fact, the Asian Development Bank (ADB) has lowered China's GDP forecast to 3.3% for 2022, the lowest rate compared to other Asian developing countries for the first time since 30 years ago.
"事实上,亚洲开发银行 (ADB) 已将中国 2022 年的 GDP 预测下调​​至 3.3%,这是 30 年前以来首次低于其他亚洲发展中国家的最低水平。
"Climate change factors as well are expected to disrupt the productivity of major food producers such as India, thus contributing to the increase in commodity and food prices.
"预计气候变化因素也会扰乱印度等主要食品生产国的生产力,从而导致商品和食品价格上涨。
"These factors will continue to put pressure on inflation rates and food security around the world, including Malaysia," he added.
"这些因素将继续对包括马来西亚在内的世界各地的通货膨胀率和粮食安全构成压力,"他补充说。
However, as of now, Tengku Zafrul said that the Malaysian economy is still strong, with low inflation, positive GDP growth, continued decline in the unemployment rate, as well as growth in foreign trade.
不过,截至目前,Tengku Zafrul 表示,大马经济依然强劲,通胀率低、GDP 正增长、失业率持续下降以​​及外贸增长。
"So far, inflation remains under control with a rate of 4.4% in July 2022. For the first seven months of this year, inflation was 2.8%, among the lowest rates in the world due to the subsidiary assistance amounting to almost RM80 billion.
"到目前为止,通货膨胀率在 2022 年 7 月保持在 4.4% 的控制之下。今年前七个月的通货膨胀率为 2.8%,是世界上最低的通货膨胀率,这得益于近 800 亿令吉的辅助援助。
"A positive GDP recovery of as much as 3.6% for 4Q2021, 5% in 1Q2022 and 8.9% in 2Q2022. A decrease in the unemployment rate for 12 consecutive months, with an unemployment rate of 3.7% for July 2022, compared to 5.3% in May 2020.
"2021 年第四季度的 GDP 正复苏高达 3.6%,2022 年第一季度为 5%,2022 年第二季度为 8.9%。失业率连续 12 个月下降,2022 年 7 月失业率为 3.7%,而 2022 年 7 月失业率为 5.3% 2020 年 5 月。
"These are facts, the numbers don't lie, so if we look at the expansion of the economy, the economy has not failed. But looking at the strong growth in 1Q and 2Q, the 3Q might also surpass the forecast we set for this year.
"这些都是事实,数字不会说谎,所以如果我们看看经济的扩张,经济并没有失败。但从 1Q 和 2Q 的强劲增长来看,3Q 也可能超过我们对今年的预测。
"All these successes are also contributed by the fiscal policy that expanded via Budget 2022, and monetary policy that remains accommodative. Accordingly, for the year 2022, Malaysia's GDP is expected to grow better, between 5.3% to 6.3%," he added.
"所有这些成功也得益于通过 2022 年预算扩大的财政政策和保持宽松的货币政策。因此,到 2022 年,马来西亚的国内生产总值预计将增长更好,介于 5.3% 至 6.3% 之间,"他补充说。
Tengku Zafrul maintained that the Ministry of Finance remains confident that the Malaysian economy is to surpass its 2023 GDP forecast, citing that the ministry's confidence is founded on strong figures logged for the year thus far.
Tengku Zafrul 坚持认为,财政部仍然相信马来西亚经济将超过其 2023 年的国内生产总值预测,理由是该部的信心是建立在今年迄今为止记录的强劲数据之上。
"The confidence is coming from the numbers that we've seen on the ground, third-quarter numbers look very strong. So, mathematically, if you had 6.9% at the first half, and your projection is 5.3% to 6.3% [for the full year], the chances of beating that is very high.
"信心来自我们在实地看到的数据,第三季度的数据看起来非常强劲。所以,从数学上讲,如果你上半年有 6.9%,而你的预测是 5.3% 到 6.3% [全年],那么击败它的机会非常高。
"This is because if the 3Q is expected to be as strong or stronger than the 2Q, mathematically, the full year will be higher than 5.3%," he said.
"这是因为如果预计第三季度与第二季度一样强劲或强劲,从数学上讲,全年将高于 5.3%,"他说。