'King can extend state of emergency if necessary'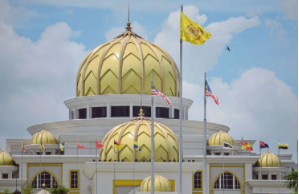 By Arfa Yunus - January 13, 2021 @ 9:00am
KUALA LUMPUR: Yang di-Pertuan Agong Al-Sultan Abdullah Ri'ayatuddin Al-Mustafa Billah Shah has the authority to extend the current state of emergency beyond Aug 1 if he deems it necessary for the country.
International Islamic University Malaysia legal adviser Professor Dr Nik Ahmad Kamal Nik Mahmod said this was provided for in Article 150 of the Federal Constitution, which accorded the king such powers, where he could make such a declaration if he "is satisfied that a grave emergency exists".
"Article 150 (8)(b)(ii) states that the Yang di-Pertuan Agong has the authority to decide on extending the Proclamation of Emergency and the validity of his decision cannot be challenged in any courts of law.
"Basically, it means that if by July or Aug 1, the Yang di-Pertuan Agong feels that the situation in the country is still severe, he can extend this emergency period.
"The Federal Constitution has made it clear that the Yang di-Pertuan Agong must be 'satisfied' with evidence that there is a need for an emergency. Likewise, the king must be satisfied with the situation in the country before he lifts the Emergency proclamation or extends the period.
"This was why the king rejected the government's request for an Emergency last year, but he accepted the request this time.
"It must be because he is 'satisfied' with whatever evidence that was presented to him," said Nik Ahmad yesterday.
He said the Yang di-Pertuan Agong had the power to promulgate or proclaim ordinances he thinks necessary for the country and the people to combat the Covid-19 pandemic. During an Emergency declaration, new laws could not be passed by Parliament, but the king may make a proclamation of a new law in the form of an ordinance, where any necessary law could be put into force.
However, he said, such ordinances could only be applied during the state of emergency.
Once the Emergency period ends, the laws would cease to have effect, according to the Federal Constitution, he added.
Citing an example, Nik Ahmad said the king might, if he felt the current RM1,000 fine for not wearing face masks was meagre, increase the penalty to any amount he felt sufficient to instil fear in the people and get them to adhere to the standard operating procedures set in place by the Health Ministry.
"This is important because we are fighting an invisible enemy here — Covid-19. Such a law, or ordinance, will stop rule-breakers from repeating the offence.
"Or, there could be an ordinance to compel private hospitals to turn their place to treat only Covid-19 patients, for example. This cannot be done during normal times.
"The whole purpose of the Emergency is to make things easier because we don't have to go through the slow process (of bureaucracy) in formulating a quick and effective law because the king has the power to do so.
"The present state of emergency will allow us to focus on how to deal with this pandemic effectively because the main weapon we have now is the SOP that is laid down by the government." By Arfa Yunus